Lockdown – what exactly is allowed now?
Everyone's reeling from the current 'lock down' situation. It's one thing saying it should happen. Quite another hearing the Prime Minister say it.
It's hard to take it all in and some of the elements are difficult to get your head round.
So we've collated all the various reports of Boris's announcement and we believe this to be a fair representation of today's announcement. It's beneath these urgent warnings and advice…
VERY IMPORTANT – WHEN YOU RING TO POSTPONE PAYMENTS WITH YOUR BANK, LEASE PROVIDER, BUILDING SOCIETY, RENT, MORTGAGE, LOANS, UTILITIES etc, THE WORDING YOU USE SEEMS TO BE CRITICAL.
They've all got systems in place but we've heard that (and we believe it) if you just say you've lost work, income, jobs, show cancellations, whatever, they can't help you.
Once you say "I have no income due to the Coronavirus", that's the keyword they need to hear to be able to enact their new policies, defer payments, halt late fees, etc.
And, apparently, they can't coach you to say it. You have to do it yourself. Good luck. It's a must do. If you want to talk to us about it, give us a call on 01763 257882
---
---
SECOND THING YOU
NEED

TO KNOW – THERE'S

SCAMS

GOING AROUND

like we needed that eh!?
'IF IN DOUBT DON'T'
If anything requires you to insert your payment details etc to receive a rebate to do with Corona virus (obviously a clever ploy) please delete, spam it or report it on your local fb forum to help others. They are very convincing. And it's disgusting they are preying on us all at this terrible time.
We really do need to pull together.
---
This is what we understand to be the case. We will be updating if there are any developments.
If you need to know what is happening/aid available for businesses please click here
If you need to know what is happening/aid available for self employed and employees please click here
Announcement from Boris Johnson on Monday evening 23rd March 2020 – Summary
1. A UK-wide lock down from midnight for a minimum of three weeks
2. Everyone should stay in their homes unless for one of four reasons
i) Shopping for food or medicine
ii) Exercise for yourself once a day (with pet) or with members of your household only. Not friends
iii) Medical appointments or as a carer visiting a vulnerable person
iv) Travel to and from work for essential key workers and 'only if you cannot work from home.' (There is some ambiguity here as so many businesses are closing and being asked to close if what they do is deemed 'non essential' so we will clarify as soon as we can)
3. All non-essential shops closed except food, pharmacy, newsagents, vets, petrol stations, hardware shops, pet shops, banks, launderettes and undertakers. And bicycle shops… scroll down for a print screen of the list as of 24th March
4. Parks to stay open but communal play areas closed
5. Places of worship closed except for funerals
6. All public gatherings of more than two people will be banned, except if those people share a household
7. Roads and rail networks to stay open but only for essential workers to get to work
8. Police will have emergency powers from Thursday to stop, question or fine anyone who doesn't comply. Anyone breaking the rules will be fined at least £30 – and up to £1,000 if they fail to self-isolate.
What is likely still to be open should you need to venture out? Which shops are deemed non essential or essential?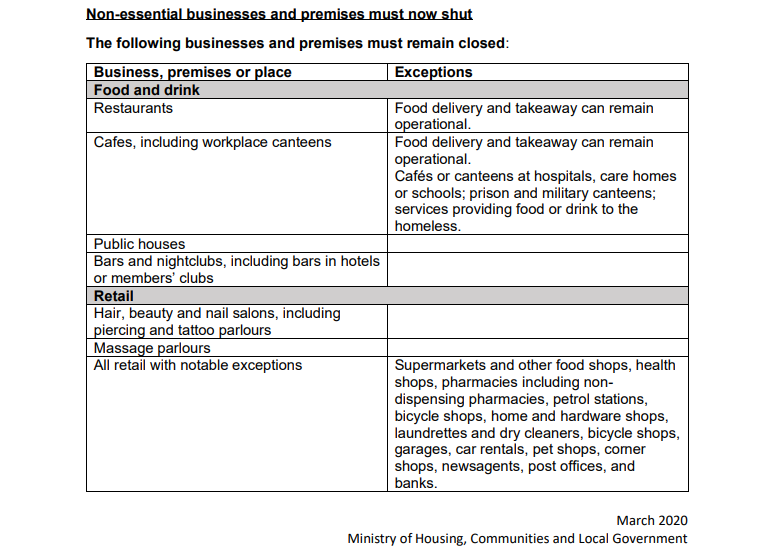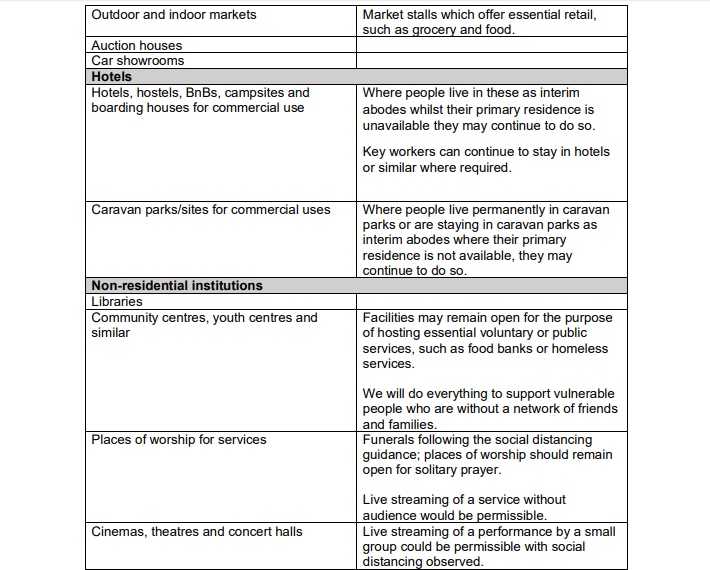 There's more but it's a PDF not a document, so click here to read it 230320_-_Revised_guidance_note_-_finalVF