Our pledge to you and an introduction to our community work
These are the standards we have set ourselves and endeavour to deliver. We hope they provide the service that you need from your accountant.
Professional
Providing your business with accurate, consistent, clear and simple information and advice when you need it, to protect your existing clients and influence your market place. Old fashioned family values and a stable helm meet innovation and focus where two generations pool resources to provide time saving, up to the minute cloud based accountancy solutions, with a solid accounting background.
Personable
Our mission has always been to treat our clients as equals and discuss issues relating to your business with you freely, without resorting to jargon. You can drop into our office any time and shoot the breeze over a cuppa. All our clients are treated the same, regardless of size. Everyone is important to us. Down to earth support and advice is where we're at, we'd like to think we're approachable and you'll find that we make time for you and really listen to what's going on, ask questions to get to the root causes and help you consider a range of options and support you in your action. And we've developed some packages which will provide a range of support for which there is a clear demand. Please click here for more information.
Purposeful
There's a proactive potency about what we do, and delivering what we say we're going to do, when we say we'll do it, thus encouraging a vigorous arena for dynamic progress. Inspiring intelligent change by listening to the market and being bold, driving ourselves and our clients to feel the fear and do it anyway. This also relates to handling issues, using the simple formula of SPIN (Situation, Problem, Impact, Needs) to help you identify the impact of any ongoing problem and what needs to be done. Helping you distinguish the difference between wants and needs, resistance to change and motivations to change to help uncover the right solution. This also relates to business and accounting issues which are historical, which we might have inherited from your previous accountant – we love a challenge!
Passionate
This is all about approaching life and work with fun and positivity and expecting productive outcomes, so we naturally share our enjoyment of what we do with everyone with whom we come into contact. It seems that many of us are frightened of death but sometimes we live like we're also frightened of living.
It's easier to keep your head down and do nothing than it is to do something out of our comfort zone. We hope to inspire you to live your best life and embrace everything your business can achieve for you.
We are active advocates of self care and believe we should take responsibility for our lives and to this end, we write articles, go on radio and TV shows and speak about topics which are dear to us.
Here's a cross section of what we've been up to, ranging from meditation to time management, the value of volunteering and attracting positive things into your life.
---
PUBLISHED 'Well being' features
If you are interested in reading articles on the topics below which have been kindly published by The Listing Magazine please click here
Attracting abundance (drawing all that is good into our lives and the lives of those around us)
Finding the me in time (time management, saying no and prioritisation)
The value of volunteering (to ourselves as well as those we help as well as our organisation)
SPEAKING EVENTS
John also speaks about the importance of Meditation and how it transformed him from Mr Angry!
Here he is talking to Stansted Business Forum in November 2019 
Helen also spoke to the same group about Finding The Me in Time
RADIO SHOWS
We also visit Cambridge 105 on a monthly basis (when we can) to talk about the topic of the month. Thanks to Leigh Chambers for having us on her Friday morning Show. December's topic is Social Anxiety – Small talk with Strangers. We will be there on 6th December.
The audio (and sometimes the videos) of these interviews are here:
Social Anxiety, the secrets of small talk
LOCAL TV SHOWS
Norfolk Live TV thanks to Amie-Beth Steadman for the interviews
The changing face of accountancy – the importance of mentoring
COMMUNITY CHARITY PROJECTS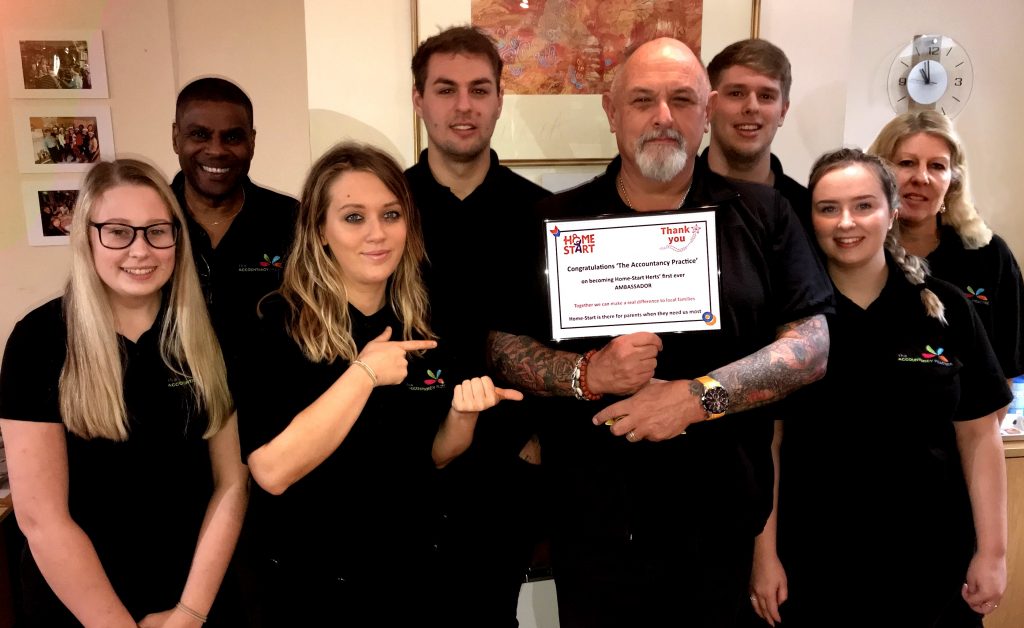 We're proud Ambassadors of Home-Start Hertfordshire and have thoroughly enjoyed the first year of our association (as at October 2020).
We felt a natural affiliation to Home-Start, partly because both John and Helen have been volunteers, but also because our family run business and our values of commitment, compassion and collaboration sit comfortably with their vision to support families when they need it most.
Our major project last year was the recording of a charity single 'Blue Christmas' featuring our own Joe Rose and internationally renowned author Ken Follett. Accompanied by a video which we arranged, edited and promoted in the regional press and radio, featuring local businesses as well as the Home-Start office team.
Please click here to 'read all about it' and hear the tracks or watch the video.
Contact us
Please get in touch if you are interested in any of our services and are ready to get started, or just want to find out more. Our direct contact details can be found below, or see more on our contact page.